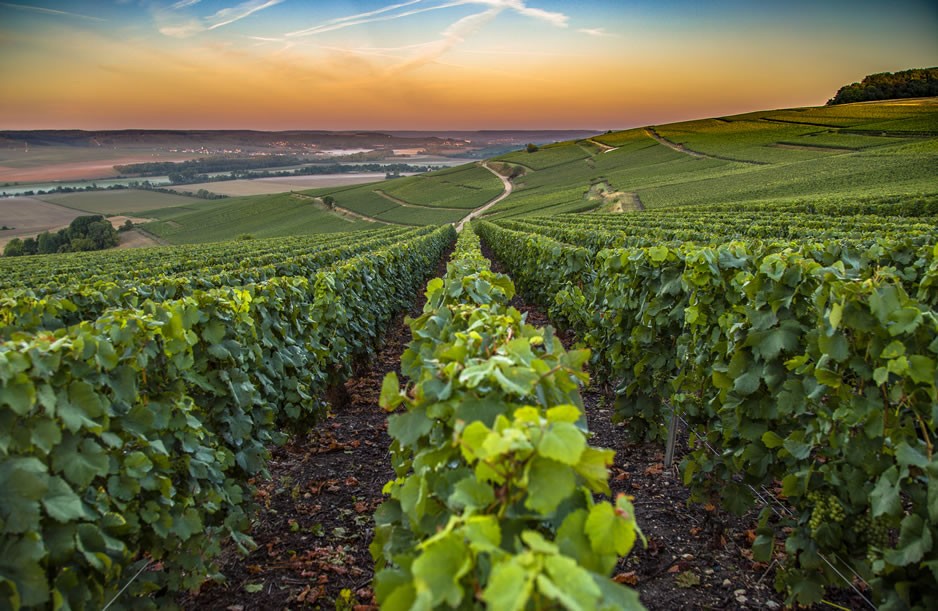 Winemaking -
2022-11-16
There is no need to wait for the celebrations to treat yourself to the pleasures of a good sparkling wine.
Although the prestigious reputation of champagne is well established, other varieties of sparkling wine exist and also deserve to be in the spotlight. Indeed, inside and outside the French borders, other types of sparkling wines can be enjoyed, and they have their own set of surprises to offer. Sparkling wine lovers, embark on a journey to discover the different types of sparkling wines, from Champagne to sparkling rosé, including Prosecco and Crémant.
---
Sparkling wine: how is it made?
Before diving into the core of the subject, it is worth taking the time to understand how sparkling wine is made. In order for the bubbles to form, the wine must go through two phases of fermentation. It is during the second phase that the wine develops its sparkle.
That being said, there are several methods of achieving this second fermentation, each of which produces a very different result. Although there are about six different methods, two of them are mainly used: the traditional method and the closed tank method, also called the Charmat method. While the traditional method consists of fermenting wine in a bottle after adding sugar and yeast in order to obtain fine bubbles, the second method, the Charmat method, involves fermenting wine in a large stainless-steel tank. This technique differs from the traditional technique and yields larger bubbles, such as those usually found in Prosecco and many top-notch sparkling wines.
---
5 types of bubbly wines worth a taste
Sparkling wine is a vast universe, and it would be both too ambitious and counterproductive to try to cover it all in a single article. Nevertheless, some major sparkling wine varieties stand out and deserve a special place on this list.
Champagne : a French must-have
Champagne alone is the standard bearer of sparkling wines. If it's not the only one to deserve attention in this category, it remains however one of the most prestigious, and rightly so. This jewel of the French terroir is the undisputed symbol of celebration and sophistication throughout the world. The great aromatic subtlety conferred by its strict fabrication process and the controlled origin of the grapes from which it is made have given rise to a delicate, rich and surprising delicacy that promises a unique experience with every sip.
Prosecco : Italy in a bottle
Widely known and appreciated by cocktail and Italian specialty lovers, Prosecco takes its name from the village in which it was created, near Venice, in northern Italy. More than just the star ingredient of a trendy cocktail, Prosecco reigns among sweet sparkling wines and has more than one thing going for it.
In Italy, Prosecco, made from glera grapes, Prosecco can be spumante or frizzante, and is fermented in closed tanks using the Charmat method. There is also Prosecco Tranquillo, in other words still Prosecco, although this is not necessarily its most popular form.
Crémant: France's underrated sparkling wine
Although it remains widely appreciated in France and throughout the world, Crémant has sometimes suffered from its image of cheap Champagne. However, this is a preconceived idea that needs to be deconstructed. If it would be foolish to deny the similarities that can be observed between Crémant and Champagne (two sparkling French white wines, made with a similar vinification method, sometimes close in taste), these two wines are quite different and each has its own assets.
Crémant can be produced in the French regions of Alsace, Bordeaux, Burgundy, Jura, Languedoc-Roussillon, Loire and Savoie, unlike Champagne which is only produced in the eponymous region. The grape varieties also vary from one region to another, although Chardonnay is generally included. This diversity of terroirs and grape varieties, in addition to the unique touch of each producer, makes Crémant a wine with strong aromatic potential that deserves to be appreciated at its true value.
Cava, Spain's effervescent wonder
Created in the 19th century in Catalonia, northern Spain, Cava -which means cellar in the local dialect- is a particularly popular sparkling wine, with no less than 32,000 hectares of vineyards dedicated to its production and several million bottles sold worldwide each year.
Made using the traditional method, Cava shares a similar taste with cider, but stands out from other sparkling wines made using the traditional method such as Champagne or Crémant.
Several varieties of grapes are used to make Cava: macabeu provides sweetness and fragrance, xarel-lo provides substance and definition, while parellada adds a touch of freshness, delicacy and fresh fruit flavors. Ultimately, Cava is a rather dry, mineral sparkling wine with subtle acidity and notes of almond, quince, apple and citrus. The fermentation method produces fine bubbles, pleasant in the mouth.
Sparkling rosé
While many are accustomed to still rosé, it is time to honor its sparkling version. An unparalleled pleasure on hot summer days, sparkling rosé combines the invigorating properties of bubbles with the refreshing qualities of rosé.
There are a multitude of sparkling rosé wines, produced from Provence to the sunny valleys of California, whose aromatic palette can vary from a dominance of red fruits to a prevailing citrus or floral flavor. There is no doubt that every wine enthusiast will find their bliss in these sparkling wines.
Comments
Notice
: Trying to access array offset on value of type bool in
/home/veuveduvyv/www/blog_detail.php
on line
204

Notice: Trying to access array offset on value of type bool in /home/veuveduvyv/www/blog_detail.php on line 206

---
Notice
: Trying to access array offset on value of type bool in
/home/veuveduvyv/www/blog_detail.php
on line
204

Notice: Trying to access array offset on value of type bool in /home/veuveduvyv/www/blog_detail.php on line 206

---
Notice
: Trying to access array offset on value of type bool in
/home/veuveduvyv/www/blog_detail.php
on line
204

Notice: Trying to access array offset on value of type bool in /home/veuveduvyv/www/blog_detail.php on line 206

---
Notice
: Trying to access array offset on value of type bool in
/home/veuveduvyv/www/blog_detail.php
on line
204

Notice: Trying to access array offset on value of type bool in /home/veuveduvyv/www/blog_detail.php on line 206

---
Notice
: Trying to access array offset on value of type bool in
/home/veuveduvyv/www/blog_detail.php
on line
204

Notice: Trying to access array offset on value of type bool in /home/veuveduvyv/www/blog_detail.php on line 206