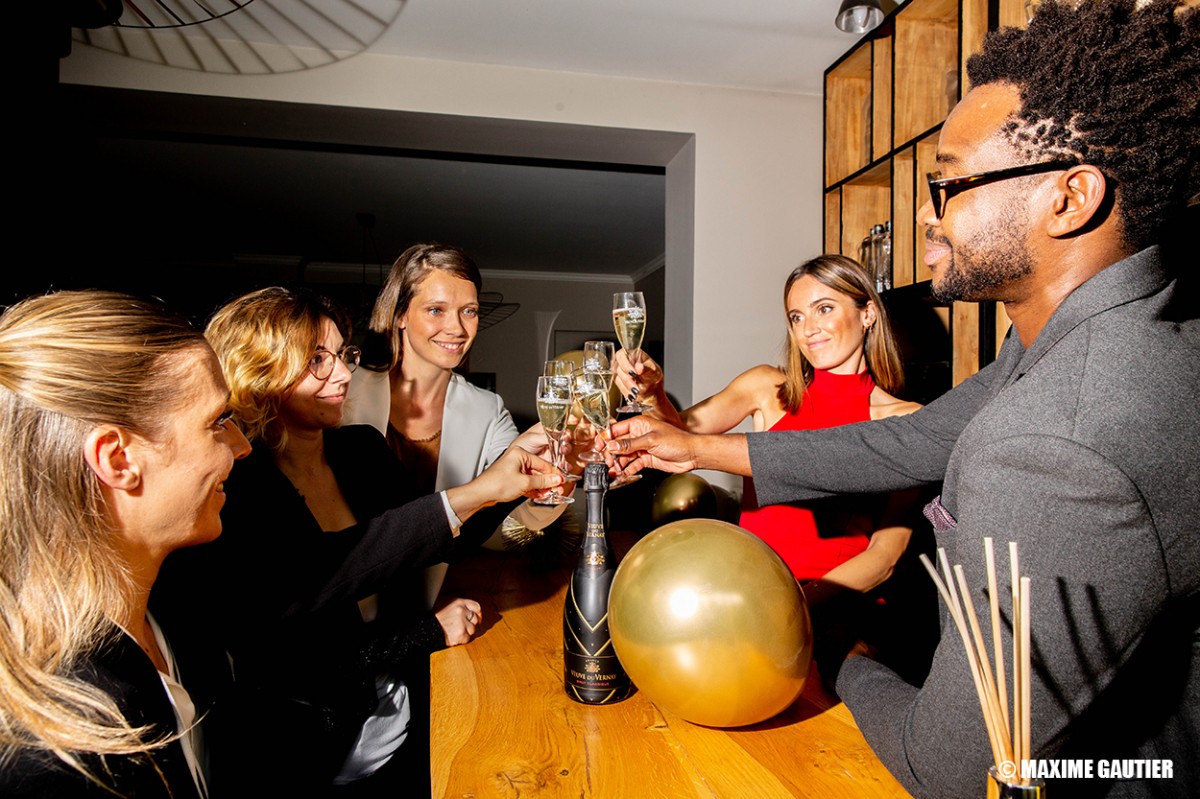 Cocktail -
2023-07-12
Nothing better than sharing cocktails during a party with friends! These colorful drinks that liven up your tables and charm your taste buds will bring a great dose of cheerfulness to your gatherings with friends. At Veuve du Vernay, we have thought of everything and we propose you the trendiest and most fanciful cocktails for an unforgettable tasting!
---
The sparkling drink you need for your cocktails : Veuve du Vernay ICE
When we think of sparkling cocktails, we usually think of champagne or prosecco-based drinks. At Veuve du Vernay, we have our own line of sparkling wine made especially for you to try something new and enjoy the freshest and classiest cocktails you can imagine.
Veuve du Vernay ICE
Celebrate your most beautiful moments with our VDV ice drink. Its splendid and bright bottle shines with a thousand golden lights and will make you glow during your parties. Whether on its own or mixed in a cocktail, VDV ice is tasty and will bring joy and elegance to your stylish parties and aperitifs.
The fresh and floral taste of VDV ice will bring to your cocktails an explosive burst of delicious flavors. For a chic evening, choose VDV ice! Specially elaborated for you to enjoy the most refreshing cocktails, VDV ice is made so that you can put ice cubes in it: those will enhance even more the charming taste of VDV ice!
Veuve du Vernay ICE Rosé
Spice up your parties with VDV Ice Rosé. Go for a pink party and impress your friends with this beautiful, elegant and seductive bottle. Its red fruit aromas and its colorful and sparkling robe will bring an original touch to your cocktails and will make you bubble. Put some ice cubes in your VDV Ice Rosé for an ideal and delightful tasting. Try it and serve your thirsty friends with VDV Ice Rosé: it will bring to your social events a unique and festive taste experience.
---
The most refreshing Veuve du Vernay sparkling cocktails
Veuve du Vernay has worked with the famous bartender Beautiful Boose to develop for you the best cocktails based on VDV ice. The purpose of our recipes: to bring you fun, flavors and glitter to make the most of those precious moments with your loved ones.
VDV Bubbly Sidecar
The VDV Bubbly Sidecar is simple and classy. This bright yellow cocktail made with cognac and VDV Ice is delicious and perfect for sipping with family and friends on a sunny day. Try a glass of this lemony and exquisite cocktail, and don't forget to rim the glass with sugar: it will melt your taste buds.
VDV Spritz
If the Spritz is a classic cocktail, then the VDV Spritz is a classic with a twist. This lovely and effortless drink is made with elderflower syrup, lemon juice and watermelon juice. This mix of flavors will bring sunshine and excitement to your drinks, with a touch of elegance!
VDV Sunset Soiree
The VDV Sunset Soiree is a good bet for Aperol Spritz lovers. This citrus-based cocktail will bring a vibrant touch to your time with friends. Furthermore, the VDV Ice Rosé creates a harmonious balance between the different flavor notes of this orange cocktail. Perfect for sipping in front of a sunset, the VDV Sunset Soirée is an ideal and sophisticated starter drink for your party.
VDV Sparkling Vodka Gimlet
The VDV Sparkling Vodka Gimlet cocktail will blow you away with its flashy, breathtaking color. The sweet blueberry syrup is the key ingredient that makes this cocktail so mouth-watering, and the sparkling VDV Ice Rosé adds a classy touch to the mix. The VDV Sparkling Vodka Gimlet is definitely the cocktail you need to add color and sparkle to your parties.
VDV Raspberry '75
The VDV Rapsberry '75 is a guarantee of freshness and refinement. The delicacy of the raspberry syrup combined with the character of the gin, the lemon juice and VDV Ice Rosé make this cocktail a bold and appealing drink. Some glasses of this cocktail will liven up your parties with panache.