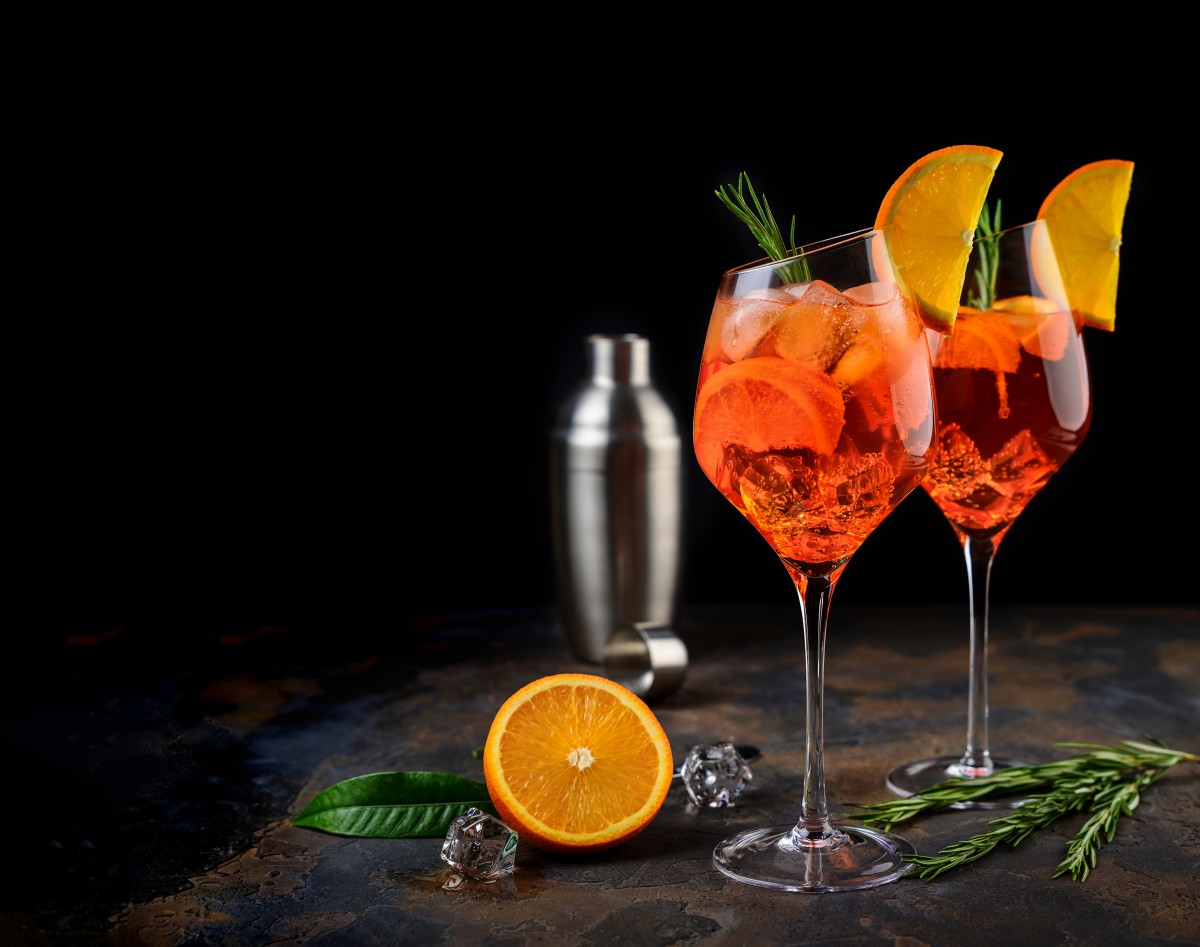 Cocktail -
2022-11-16
An ice-cold, bubbly drink is the best way to beat the summer heat. If it's a little boozy, that's an added bonus. One of the most famous is the wine spritzer, a personal fave during the hottest seasons and weekday fun activities. In most cases, it's a simple mix of wine and soda water, with seasonal juices and liqueurs added for flavor. It's delightful, refreshing, and super fun to prepare.
There are dozens of ways to personalize a wine spritzer, such as switching from red to white wine or playing with liqueurs, mixers, and toppings. The secret to making the perfect wine spritzer is to ensure that both the wine and soda are served ice cold. This way, the wine's aromas are brought out to their fullest potential. Heck, it might even enhance the flavor of a wine that would otherwise be unappealing.
---
Here is our take on the ideal wine spritzer!
Experiment With It Like A Cocktail
In lieu of club soda, the most renowned spritzers blend liqueurs with sparkling wines to create a sophisticated drink that tastes fantastic but is less potent than a Negroni or a Bone Dry Martini. The Sparkling Sidecar and Aperol Spritz are ideal examples since they both blend sparkling wine with a fragrant, but somewhat bitter liqueur and a tinge of acid to create something that is incredibly pleasant.
Take It Seriously
Yes, it's easy to make - but that doesn't mean we should be taking it for granted. A watery wine spritzer is the last thing anybody wants. Finding the right proportions of wine, fizz, and other components is essential to making a tasty cocktail; it's vital to not allow the non-alcoholic ones to take center stage. Use a measuring cup to add the spritzer's ingredients one at a time. The fruit and liqueurs go in first, followed by the bubbly at the very top. When it comes to spritzer recipes, you should experiment to discover the perfect blend (for yourself) of wine and non-wine components.
---
Choose The Right Wine For Your Spritzer
While a spritzer may be made with a simple combination of club soda and wine, there are many more options that can enhance the drink's texture and taste. The optimal sip comes from grape types that are low in tannins and rich in acidity. Maintaining the wine's essence is easier if the fizz is already instilled within.
The following is a list of some of the greatest varietals of wine to use for making an aromatic and tasty wine spritzer.
Red Wine Spritzer
How about a delectable Sangria with a twist? A red wine spritzer, of course!
Just a few ingredients, and you've got a cocktail that looks and tastes fantastic. It's an excellent option for gatherings and an ideal addition to any drinks table. This quirky-looking beverage is perfect for a quick summer refreshment since prep time is kept at a minimum. It's rich and full-bodied but very crisp and effervescent at the same time. With the addition of a diced orange as a topping, your drink will quickly take on the fruity flavor of the Spanish delight.
Barton & Guestier Réserve Merlot
What could be better than a French and Spanish border wine to concoct a sangria like no other? For your red wine spritzer, Barton & Guestier Réserve Merlot is the ideal elixir: a round structure that leaves a unique sensation of harmony on the palate, a very French sense of elegance and taste notes of wild berries and coffee that will counterbalance the soft bitterness of soda water.
White Wine Spritzer
The White wine spritzer has been around for quite some time, despite the widespread misconception that they were only recently created. Here's our favorite version of the story!
One fine day in 1842, Hungarian author András Fáy summoned a group of friends, including the scientist Ányos Jedlik, to visit his special wine cellar. The latter brought with him a bottle of soda water, which had just been invented at the time. They were all perplexed when Ányos proceeded to add it to the wine being served and dubbed his new concoction "Spritzer."
Many years later, the general populace still finds itself sipping on the delightful concoction of ice-cold wine and bubbles, suitable for any celebration.
Veuve Du Vernay Ice
There is no more ice-worthy occasion than the preparation of a white wine spritzer. Pull its cork off and pour it over a scrumptious mix of citrus juice, liqueurs, and sweeteners. Your cocktail will take on new life with the addition of elderflower liqueur, honey, or maple syrup. Infused with floral and fruity undertones, the VDV Ice elevates any drink with a burst of enticing freshness and a perfect touch of elegance.
Comments
Notice
: Trying to access array offset on value of type bool in
/home/veuveduvyv/www/blog_detail.php
on line
204

Notice: Trying to access array offset on value of type bool in /home/veuveduvyv/www/blog_detail.php on line 206

---
Notice
: Trying to access array offset on value of type bool in
/home/veuveduvyv/www/blog_detail.php
on line
204

Notice: Trying to access array offset on value of type bool in /home/veuveduvyv/www/blog_detail.php on line 206

---
Notice
: Trying to access array offset on value of type bool in
/home/veuveduvyv/www/blog_detail.php
on line
204

Notice: Trying to access array offset on value of type bool in /home/veuveduvyv/www/blog_detail.php on line 206

---
Notice
: Trying to access array offset on value of type bool in
/home/veuveduvyv/www/blog_detail.php
on line
204

Notice: Trying to access array offset on value of type bool in /home/veuveduvyv/www/blog_detail.php on line 206

---
Notice
: Trying to access array offset on value of type bool in
/home/veuveduvyv/www/blog_detail.php
on line
204

Notice: Trying to access array offset on value of type bool in /home/veuveduvyv/www/blog_detail.php on line 206